It's Nutrition and Hydration week on 14th June 2021 and we want all our services across Potens to get involved. This is an annual event with a shared objective to highlight promote and celebrate improvements in the provision of nutrition and hydration.
Judith Hacking, Service development Manager explains:
"As part of Potens wellbeing strategy we want services to highlight and educate people on the value of food and drink in maintaining health and well being in health and social care. Our wellbeing group have pulled together some ideas for events and activities during the week."
DAILY THEMES
• Monday – BIG BREAKFAST – the most important meal of the day
• Tuesday – SNACKY TUESDAY – the value of snacks between meals
and at suppertime
• Wednesday – GLOBAL AFTERNOON TEA
• Thursday – THIRSTY THURSDAY
• Friday – FRUITY FRIDAY
• Saturday – SMOOTHIE SATURDAY
• Sunday – SUNDAE SUNDAY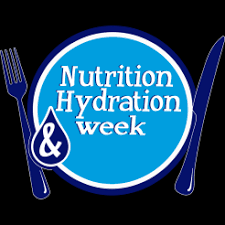 You can also create your own theme days  – how about a Taste Testing Tuesday; Weigh in Wednesday or Fluid Focus Friday?!
To get you started the team have shared some quizzes that you can use to involve your staff and the people we support.
Let us see how Potens services celebrate Nutrition and Hydration Week. Please share your -activities with us at media@potens-uk.com