Individuals living at Oakleigh, Potens' residential service in Dawlish, have been busy designing and creating some new features for their garden – increasing their skills and having fun along the way!
Oakleigh is one of Potens' residential services located in Dawlish, South West England, for 9 individuals with learning disabilities and behaviour that can be described as challenging.
With some beautiful views and a fantastic outdoor space, the team at Oakleigh have supported the individuals to craft some items for their garden, including bird boxes and a festive Christmas reindeer, as well as getting green-fingered planting bulbs in some newly created planters.
Nicki Chandler, Registered Manager at Oakleigh, explains: "One of the individuals who lives here, Edward, wanted to repair an old bird box that was in the garden, as well as make a brand new one. With support from the team at Oakleigh he helped cut, paint, repair and create two fantastic features that are now of pride of place outside."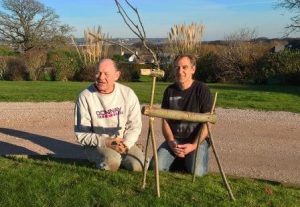 Engaging the individuals we support in activities such as these are a key way to get people active and involved – as well as increasing their skills and letting their creativity flourish.
"It's not stopped there!" Nicki adds. "At Christmas David and Tarrin wanted to get their garden looking festive so designed and created a reindeer using wood from one of our trees – they were both delighted with the finished look and have made plans for some more creations this year."
In addition, one of the individuals, Damon, has been creating planters out of wood and is now busy filling them with bulbs ready for spring.
"The new additions to our garden are fantastic. It's great to see the individuals getting stuck in, having lots of fun, as well as creating a sense of pride in their achievements."
Fantastic work!