Sam Hawleys who lives at Larwood House in Nottingham went on holiday to Skegness over the summer and with the help of his Support Worker, Vanessa, wanted to share his adventures with us!
Vanessa Piper, Support Worker, Larwood House said:
"Sam had been really excited for weeks prior to his holiday to Skegness – with him marking off the days on his calendar. So he was so happy when the day finally arrived!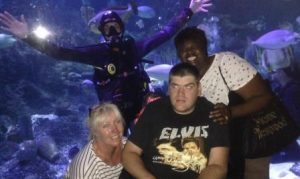 Sam can sometimes get anxious when travelling but he did really well in the car and the journey to Skegness was smooth.  We were staying in a caravan which Sam said he 'really loved' and he quickly settled in, unpacked cases and went off to explore!
Sam had a jam packed agenda of things he wanted to explore and experience during his stay. He loved going into the café for milkshakes; visiting the local markets and going to Seaworld (where Sam had his photos taken with the diver in the tank – photo) and he loved eating out, especially one restaurant where he discovered an Elvis impersonator!  Sam also visited a local farm where he held some baby chicks, hamsters, and goats, and enjoyed a day at Ingoldmells."
Bringing back lots of souvenirs and equal amounts of memories, Sam said he really enjoyed his holiday and is busy planning his next trip!
Thank you for sharing Sam.