"My name is Trudi and I am employed as a support worker in Potens, Strabane Skills centre. I support a young man with Down syndrome and Autism.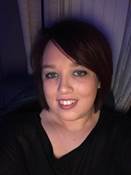 I consider myself to be very lucky to be part of this young man's support team. Through my role as his support worker I feel privileged to be able to help him achieve real goals and love sharing in the happy moments he is getting each and every day here at the centre.
I help organise everything from his daily activities, outings and meal plans. I work within a small team in Strabane and from day one have felt supported by my colleagues in all that I do.
Our client had struggled in the past to find suitable day-care with the correct support. I feel great that I have been able to share my knowledge with the team to help make things a more person centred experience for him.
I am excited for the future and can't wait to see what the near future brings for him. If we can continue to build on the good things that we have achieved so far who knows what I could be writing about him this time next year if I get the opportunity."