Samantha began her working life at Potens as an Apprentice – now 6 years on she has developed her career with the organisation and is now a Senior at High Barn. Here she tells us about her journey.
"I started working for Potens as an apprentice when I was 17 years old. Potens was my first ever paid employment and I am currently still with Potens six years later!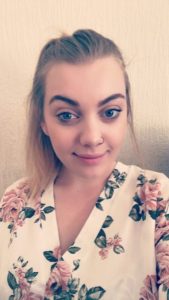 After 8 months I completed my apprenticeship and was offered a full time position as a Support Worker.
I loved working as a support worker as every day is different. Every day also comes with its challenges but this is balanced with huge rewards. After a year of being a support worker a senior position became available. I was skeptical to apply but was ready for new knowledge and the challenges a senior position could offer. Thankfully I was successful for the position!
5 years on I transferred to High Barn Close. I love my job, working with staff and service users to further my knowledge.
I couldn't imagine doing any other kind of job as I feel like Potens is my second home. I get great support from management with personal issues and work issues, they have really helped me develop in the company."