Here we meet Mark who was one of the first people to be supported by Potens 30 years ago! Here he tells us his story…
"My Name is Mark Williams, and I was Potens first ever service user when I was in my twenties, and I am now in my early sixties! I have since lived in a number of Potens' services and have been living at Calder View since June 2018.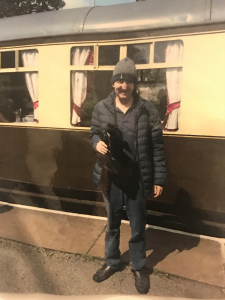 I have strong interests in steam trains and feel I have been lucky since moving to Calder View, as there are local train lines. I am also not far from the East Lancs Line, where I was recently able to travel on the Flying Scottsman with staff from Calder View, which I enjoyed extremely.
I am a very helpful gentleman and now go out every Monday with the staff to do the house shopping. When I go with the female staff to do the shopping, I will not allow the ladies to carry the shopping, as this is a man's job and I will do this for them!
One of my other main interests is James Bond films. I was recently out with staff in the local area, and we saw a Brass band playing in the centre of Colne, so the support worker I was with at the time asked if I would like to go and listen to them for a while. When we got there, the band conductor saw that I was really enjoying myself and asked if he could play something that I enjoyed? I then said "Yes, James Bond" and over the next 10 minutes or so, the band played a number of classic James Bond theme tunes for me, which made my day.
I have settled really well since Living at Calder View, and this has been helped by the staff arranging for my mother to come and visit me, and facilitating this for me. Staff will bake with me the day before hand, so that I can make my Mum some buns, as she loves my cakes.