We are excited to welcome Chester Road into Potens following an acquisition of the 6 bedded residential service in Wrexham, North Wales. Chester Road supports younger adults who are on the autistic spectrum.

The new service has brought with it a number of opportunities for Potens existing team in North Wales. Manager of Cae Glas, Natalie Toner will be taking up the reins at Chester Road as the new Registered Manager, providing the opportunity for Keely Holliday (Deputy Manager) to develop her career and take on the Registered Manager role of Cae Glas!
Natalie said:
"I am very excited about this opportunity and, a few weeks in, have got to know the individuals who live at Chester Road and the staff very well. It's a lovely service and I'm excited to work with everyone to drive forward outcomes for people and ensure the staff team are fully supported working at Potens."
Director of Care, Wales, Glenn Barnett said:
"Welcoming Chester Road into the Potens family is a very exciting and busy time for the Wales team. All hands to the pump! I would like to thank all the central support and operational teams for their hard work in making this such a smooth transition for the people we support and our new colleagues. I would also like to thank Autism Together for their time leading up to the completion date, they have been very generous in sharing their knowledge and expertise."
Welcome to our new colleagues, and congratulations Natalie and Keely!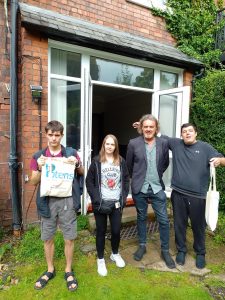 Photo: Hugh, Potens' Area Manager Wales, welcoming individuals who live at Chester Road and the staff team