Service Users from Springfield Day Opportunities service in Darlington had a surprise visit from football legend Alan Shearer on 25th October following their visit to The Alan Shearer Activity Centre.
Potens' Manager Catherine Corner explains: "The Activity Centre is a specialist recreational, sensory and social centre for people with disabilities. It's been specifically designed for people with a disability and has a range of specialist equipment including overhead tracking and hoists, to give full access to all areas for those with limited mobility."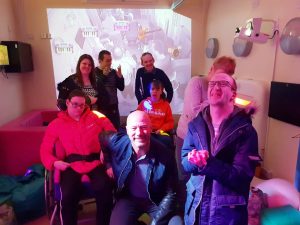 Funded entirely by The Alan Shearer Foundation, all of the activities are completely free of charge for disabled children and adults, their families, friends, schools and groups.
"As Alan Shearer is the patron and owner he visited and kindly had photos taken with our service users." adds Catherine.
To find out more about the centre and facilities go to: https://alanshearercentre.org.uk/activityCentre/