Joanne lives at Parkside Lodge in Gateshead and with support from her amazing team has won 'service user outcome of the month' in Potens Recognition and Celebration of Achievement Scheme.
The scheme aims to thank the people responsible, and inspire others by sharing their stories when the things they do, make a positive difference to the lives of those that they work alongside and/or support.
Ticking all the boxes, Joanne's team nominated her in recognition of her achievements and increased confidence over the last few months.
Christine Finnigan, Senior Support Worker, explains more: "Joanne has started attending most of her appointments on her own after setting her self a goal to try and attend these independently. She also now self medicates which is a real positive step, and will soon be starting to order and collect her own medication with support to increase her skills in this area even more."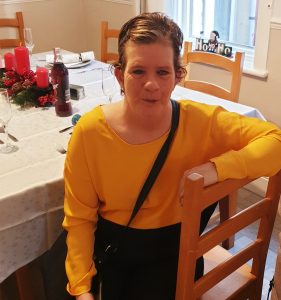 Joanne has also had some issues with her ears resulting in hearing aids being fitted – giving her confidence a real boost.
Joanne is delighted: "I enjoy being out and about now as I can hear things and I'm able to speak to people."
Her staff team at Parkside Lodge, including Christine, Jacqueline, Mellissa, Pheobe and Michaela have all been encouraging and enjoying seeing Joanne going out and being a lot more independent as a result.
Christine adds: "Joanne is really increasing her confidence every day and we are all delighted that her acheivements have been recognised with this award."