Amanda, one of the Individuals Potens supports in Wirral, has proudly shared her fantastic photographs and story behind her recent visit to Tam O'Shanter farm in Bidston.
This trip is a real personal achievement for Amanda in her journey towards independence. Amanda began to be supported by Potens in the community following an extensive stay in Hospital where she was recovering from a severe breakdown in her mental health. As a result Amanda can become anxious in crowds and when she moved in over a year ago, was rarely accessing the community.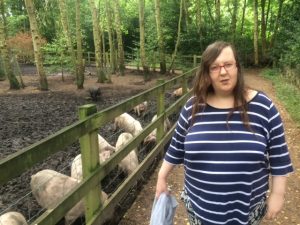 Manager Dave Andrews explains: "Since moving to her new home in Wirral, staff have supported Amanda to establish a plan that encourages her to access community activities based on factors that meet her needs on a real-time basis. Staff achieve this by talking to Amanda throughout the day to establish how she feels prior to planning community activities."
Amanda often spoke about how she liked animals when seeing them on TV or petting the house-cat: so a suggestion from staff was for her to visit the local farm.
At first Amanda was apprehensive, however with careful planning, to ensure the weather was suitable and the Farm was not too busy, Amanda agreed to give it a go.
Dave explains: "Staff ensured that Amanda didn't go to areas that were too overcrowded and monitored Amanda's reactions to any animals she wasn't too keen on. Amanda really enjoyed the whole experience – her favourite animals were the Ponies and Pigs where she spent a long time looking at them and talking about them with staff."
The trip has given Amanda a real boost and she now wants to experience some more animal related activities, with ideas to visit a Sea-life centre and Zoo on her growing list of personal goals.
Dave concludes: "We are delighted with her achievement and are now looking forward to future planning with her so she can increase her experiences even further."