It's Safeguarding Adults Week 2019 –  a National campaign running from 18-24 November with a collective focus on  safeguarding adults with the aim to be 'Better Together'.
Promoting the annual campaign, Potens service The Barn in Lancashire is helping raise awareness by hosting a series of empowerment workshops for people supported at the residential service.
Senior Support Worker, Chrissy, helped organise the sessions: "From 18th to 22nd we are working through a different topic every day with service users utilising easy read documents. The easy read documents talk about the definition of different types of abuse, examples of when this may happen, signs that abuse may be taking place and what we can do to support people suffering from abuse.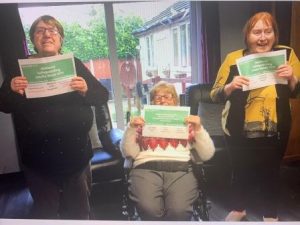 Workshop Topics Cover a Range of Safeguarding Issues:
Monday 18th – Modern slavery
Tuesday 19th – Self-neglect
Wednesday 20th – Domestic abuse
Thursday 21st – Transforming care
Friday 22nd – Safeguarding adults in sport and activity
"At the end of each session staff have been asking service users questions about the topic of abuse to raise awareness and promote understanding." Chrissy adds.
Empowering People and Embedding Learning
The sessions are empowering the individuals living at the Leyland based residential service, who have a range of learning disabilities and other complex needs, to recognise and challenge abuse.
To embed  learning staff will be using weekend sessions to role-play –  acting out different types of abuse while involving the service users to see if they are able to distinguish one type of abuse from another.
"Everyone has enjoyed the week so far, are keen to be involved and are all looking forward to the upcoming group activities for the rest of the week." Chrissy concludes.