Following our announcement that Potens are Official Supporters of Special Olympics GB, and in an attempt to get themselves and the people we support and staff warmed up for the Special Olympics, Potens' Senior Management Team (SMT) organised their very own relay last week, using our very own Challenge Charter cards as a baton – inspired and touched by the Matt Campbell story.
Matt Campbell, 29, from the Lake District, collapsed at the 22.5 mile mark of the London Marathon this year and passed away later in hospital. Matt was running for the Brathay Trust, which works to improve the life chances of children, young people and families by inspiring them to engage positively in their communities.
Following this Matt's friends and supporters set themselves a challenge to get as many people to walk, jog or run 3.7 miles over the following weekend.
Inspired by this, and in a bid to raise some money for Matt's cause, Potens Senior Management Team – from the North East coast down to the South Coast – each undertaking their section of their very own relay to 'Finish for Matt'.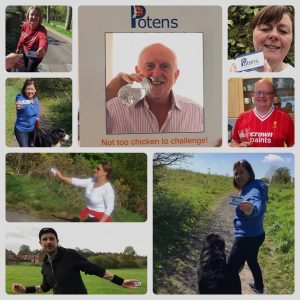 Hydrated, Chairman John Farragher started the team off and the distance between the members didn't stop their spirit of 'being better together'.
There was of course a thirst quenching reward at the end, as modelled by our Finance Director, Tom!
Congratulations to our SMT on completing their challenge and to find out more about Matt's story or to make a donation to his just giving page go to https://www.justgiving.com/fundraising/mattcampbell-londonmarathon
#PotensChallengeCharter #FinishforMatt #SpecialOlympicsGB