Paxton House have raised £300 for Comic Relief's Red Nose Day 2021 by completing a series of sponsored walks around their home in Borrowash.
The people supported at the Potens' service in Derby decided to support the annual charity day by completing a series of sponsored walks between Monday 15th March and Red Nose Day on Friday 19th March.
Staff member Hannah Gormley explains: "Throughout the five days all the people we support went out walking in Borrowash and Ockbrook to keep adding the miles onto the total. Support Worker, Becky Wynne-Newbold, designed a chart for them to record the miles, and by Friday they had walked a total of 66 miles, that's the equivalent of walking from Paxton House all the way to Wakefield!"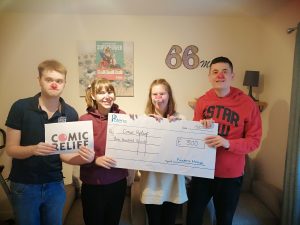 The team set themselves a target of £100 and with the help of family, friends and colleagues they have smashed this amount; raising a whopping £300, with donations still coming in!
Hannah adds: "The people we support and all the staff would like to say a huge thank you to everyone who supported us and helped raise such an amazing amount for so many good causes supported by Comic Relief."
Find out more about our service Paxton House
Find out about Comic Relief and the projects they are involved with