Mental Health Awareness Week takes place from 10th to 16th May 2021 just after the launch of Potens Health and Wellbeing new policy and action plan.
The theme this year is '5 Ways to Wellbeing' and we're inviting all our services and colleagues to get involved and to immerse yourself in the '5 Ways to Wellbeing', while reconnecting with nature across the week.
Why not join us by building in some small yet effective activities into your daily lives to feel more positive and able to get the most out of life!
As always we want to share and celebrate your involvement. Send your photos and activities from across the week to: media@potens-uk.com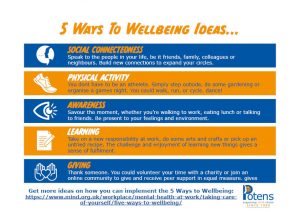 Find out more about Mental Health Awareness Week here: https://www.mind.org.uk/get-involved/mental-health-awareness-week/