A huge congratulations to Liam who is supported by our team in Preston, for losing a whopping 2.5 stone on what has been an amazing weight loss journey – a real personal achievement for Liam in increasing his health and well-being and a step closer to his dream of becoming a fire-fighter.
Manager Vanessa Carr explains his amazing journey: "Despite years of struggling with his weight and health, Liam has put an enourmous amount of effort into losing weight.  He  decided that he wished to join a slimming group and lose the weight through a calorie controlled diet and getting a handle on his food intake."
Liam signed up to his local Slimming World Group which he has been attending weekly with his support team. "In his first week he lost an amazing 11lbs!" said Vanessa. "Liam admits to struggling at times to get his head around the way the diet worked and required staff support to understand the importance of weekly menu planning and writing a list prior to food shopping."
During his weight loss journey Liam has successfully moved to self-catering where he worked with his team to explore lots of new foods, recipes and his own ideas to create a varying and interesting diet. "Liam remains an active member of his local Slimming world and this week he gained his 2.5 Stone Award, his Body Magic Certificate and to top his week off he was named Slimmer of the Week!"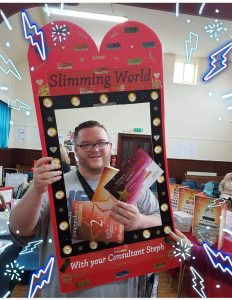 Liam also works hard to improve his physical health and swims twice a week with staff support, as well as using an exercise bike he bought for himself every night whilst watching his favourite soap Hollyoaks! He has been able to push himself to cycle from 15 minutes up to 30 minutes per session!"
Despite the restrictions placed on Liam due to his physical health he continues to push and challenge himself to achieve his personal goals. All the staff and individuals who know and work with him continue to support Liam in his journey and are very proud.