Congratulations to George Piggins who has received an ICT Star Award from Lancashire Adult Learning, awarded to George at their Annual Star Awards ceremony.

Held at Preston North End Football Club, the Lancashire Adult Learning Star Awards saw learners from across the county awarded accolades for their success. George, who is supported at one of Potens' mental health service in Lancashire, received the award for his continued 'effort and achievement' in regards to his ICT work at Lancashire Adult Learning.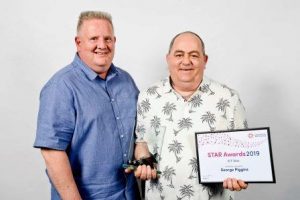 Support Worker, Anne Marie Miller, said: "George was accompanied by staff to the event and was thrilled to receive this award. We are so proud of how hard he worked to achieve this."
George was also one of two learners who shared their learning journeys on the night – overcoming his fear of public speaking to give a talk at the event.
George said: "When I started with LAL, I thought it would be impossible for me to pass exams and I couldn't use emails. Since then I have passed my Entry Level 1 and Entry Level 2 ICT exams and I'm about to sit my Entry Level 3.
"I never thought I would have been able to achieve what I have and my confidence is much improved. I feel the future for me is much brighter after doing this course with LAL." adds George.
Principal of Lancashire Adult Learning Amanda Melton said: "Our Star Awards was a wonderful occasion and it was lovely to hear the stories of our inspirational award winners and see them presented with their awards in front of their proud family and friends, LAL staff and VIP guests – all of whom share a similar passion for lifelong learning and understand its importance in offering opportunities to adults.
"Whether people are looking to develop personally or professionally, are wanting to learn a new hobby or skill, are keen to engage with their local community, or get back into work, there is something for everyone in adult community learning.
"All of our winners on the night decided to return to adult learning for different reasons, and I'm delighted that this has had a positive, if not transformational, impact on their lives. It truly is never too late to learn, and congratulations to all 2019's deserving winners."