Heath Lodge in Greater Manchester have received two awards in Potens' latest monthly staff recognition scheme – with Manager, Lorraine Walker named 'Manager of the Month' and Senior Support Worker, Lorraine Scott named 'Employee of the Month' , nominated by their colleagues for being real inspirations!
Lorraine Scott (photo left) and Lorraine Walker (photo right) were both nominated by their colleagues and chosen as winners by Potens' senior managers for inspiring their teams and introducing some new initiatives into the service over the last few months.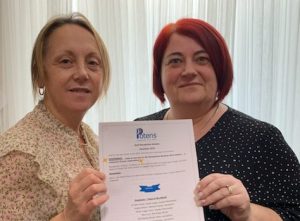 Manager of the Month:
Lorraine Walker is Heath Lodge's Registered Manager, nominated for her fantastic leadership and implementing new wellbeing daily checks at the service:
Her nominator said: "Lorraine is very supportive within her team and is very much a people's person. Lorraine is very approachable, and all the team feel that she is very much deserving of this award. Lorraine upholds the Potens' values on a daily basis and continues to create new ideas on how the team can evidence how they too uphold Potens' values on a day to day working ethos.
Mental health and wellbeing is very important to Lorraine and this shows within her role as a manager here at Heath Lodge. She has introduced a 'daily check in' for staff, during hand over, to enable us to share any personal issues or problems that we may be struggling with. This is a real support to our mental health and wellbeing, which in turn allows us to support the service users more positively."
Employee of the Month:
Lorraine Scott is a Senior Support Worker at Heath Lodge, nominated by colleagues for being a great leader and developing 'My Journey to Independence' files.
They said: "Lorraine is gifted with a great passion for her work and has worked hard both sourcing activities and organising 'My Journey to Independence' files for the service users. These are in place to identify realistic goals and wishes and demonstrate how we are working together to support people to achieve their outcomes.
Lorraine is not afraid to get her hands dirty. She has been sorting the garden out, deep cleaning all areas and has hand made Christmas decorations that are beautiful. Lorraine has also been pushing the team out of their comfort zones to improve their skills and the service."
Well done to both Lorraine's!