Every summer is carnival season in the west of England and the individuals living at Oakleigh in Dawlish enjoy watching the floats and festivities in their home town. This year resident Damon Rackley had enough of standing on the side lines and decided to participate – resulting in him winning first prize in the fancy dress competition!
His team explain: "After many hours of costume decisions Damon finally decided to go as the one and only Elvis Presley. After choosing his costume and getting it tailored to the correct size Damon went about sticking the renowned "rhinestones" on. Once again Damon took to amazon to order the famous hair and gold accessories."
"On carnival night Damon was a bit nervous about all the eyes that would be on him as he strutted his stuff in time to the music."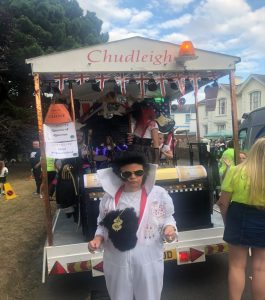 "The first part of the carnival was the fancy dress competition; Damon was particularly looking forward to this. The judges came over and looked through all the entries and after a long thinking time they came to a decision, Damon for all his hard work had won first prize!"
He was over the moon and with the support and encouragement of his staff completed the loop of Teignmouth carnival without faltering. Damon was very pleased with his win and especially pleased with his big trophy and £30 prize money."
Well done Damon!