Our world is an unequal one. As COVID-19 has highlighted, some people are able to live healthier lives and have better access to health services than others.
This is not only unfair: it is preventable. That's why we are calling on leaders to ensure that everyone has living and working conditions that are conducive to good health.  At the same time we urge leaders to monitor health inequities, and to ensure that all people are able to access quality health services when & where they need them.
Potens has chosen to launch our new group, the aim of which is to reduce health inequalities and promote well being of the people we support.
The name of the group and its aim, Embrace Your Health and Wellbeing 'Empowering you today and tomorrow' is the winning entry from Cameron Alexander pictured below who lives in one of our services in the Merseyside region.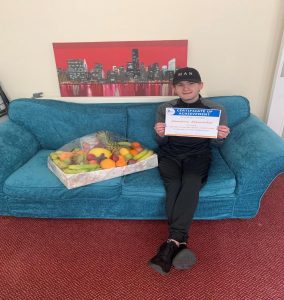 Service Development Manager Judith Hacking said: "As everyone is aware the pandemic has highlighted the health inequalities people within the services we provide face on a daily basis. We need to do our utmost to change that."
"One of our first aims is to introduce the Anticipatory Care Calendar (ACC). The Anticipatory Care Calendar (ACC) is a purposefully designed tool to improve the daily surveillance of health for adults with learning disabilities, dementia and other conditions including mental health. The ACC tool seeks to ensure that people we support are assessed regularly for changes in their health or psychological status and that they receive timely and responsive care."
ACC  is a brilliant tool that supports staff to identify concerns and deal with them effectively utilising the correct pathways to reduce health inequalities.
Judith continues to explain: "We will be rolling out a training program to enable all members of staff to use the ACC. Alongside that we will be rolling out other initiatives to support everyone to Embrace your health and well-being even through the toughest times. Because it'll empower you today and tomorrow."
Congratulations Cameron!