Paul has been supported by Potens for over three years ago and at the end of September received his last ever support session! He has now moved into his own home in his local community – all achieved through our team promoting our value of SHARED LEARNING – 'sharing knowledge, skills, attitudes and understanding' to help Paul increase and achieve independence.
Paul tells us his story:
"My name is Paul Kerridge, I have been supported by Potens for a little over 3 years, before this I had been to a few different types of services. When I first moved in I was not able to live independently, this was due to my mental health. The staff have played a big part in helping me back to being an independent member of the community. In the beginning I need help with a lot of everyday things, such as attending and making appointment which I needed staff to be there for as I was unsure how to do this alone, staff has also helped me learn to use washing machines, tumble dryers and all other household electricals.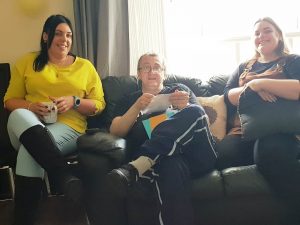 Since moving here I have gradually learnt to self-medicate which is something I had not done for a very long time. I am now confident enough to do this alone as staff supported me and advised me on the correct medication to take at the correct times.
Staff have helped me to learn to cook meals for myself and others, I can now plan, prepare, cook and serve a meal. I enjoy cooking and can cook a meal using the oven and hob or using the microwave or kettle for quick meals such as pasta pots.
I can clean my own living area and often help staff with the communal area cleaning. I clean my flat daily and deep clean it at least once per week for staff coming to check. Staff have praised me for how well I am keeping my living space clean, this includes; sweeping and mopping my floors, cleaning the toilet and shower, dusting and making sure my flat does not look cluttered. At other services they had cleaners so I have not had to do this although I did try to keep my own space neat and tidy.
I can now independently do shopping which lasts me week – week and can make judgements on whether the choices are making are healthy or not. I understand that I can have some 'unhealthy' treats as long as I keep my diet balanced. I know where my local shops are and visit them frequently. I carry my own shopping home and can put it in the correct storage areas. I have been out and bought all new furnishing for my new flat which I am due to move into soon.
I am now independent with going out into the community and using public transport, staff has worked with me and have shown me how to read bus timetables correctly and I am now aware of how to ask for a ticket to the destination that I need to be at.
Due to all of the care and support I have received over the years from all of Potens staff I am now moving out in to the community alone. I would like to pass on my thanks to all staff past and present who have helped me to become the independent man I am today. I would like to thank all of the service users who have been there for me and have been friends to me. I am looking forward to a new chapter in my life which I did not think I would be able to have when I first joined as a Potens service user, I hope that many more will follow in my footsteps in becoming independent."
Amazing journey! #WorldValuesDay