It's the final day of our #30Stories30people to kick start our anniversary celebrations. We have heard some wonderful stories from all parts of our organisation – thank you to everyone who shared their story with us!
Today we hear from Natalie who lives in Middleton Lodge in the North East to hear all about her increase in skills, confidence and independence since moving to her new home…
"Hello, my name is Natalie Richardson and I live at Middleton Lodge. I moved here in August 2016 as I wanted a change of scenery and make new friends. I came for a look around first and had supper while I was here which I enjoyed. I made my decision that I wanted to move into Middleton Lodge as it was a lovely atmosphere and the staff and residents were really nice and made me welcome. I also felt Middleton Lodge felt Homely.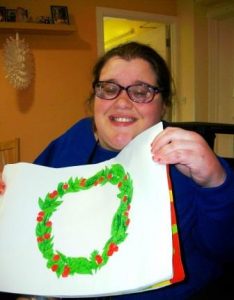 Since I have moved to Middleton Lodge I have being able to make my own choices. I chose that I wanted to use my money to get the internet in so I could go on my laptop. By me having this I am able to get on and do my work and projects for Allens Ways (Day service) and helping in the home doing posters, gaming activity, printing and the staff give me little projects to do, which I love.
Recently I have been making flags and laminating them for Potens' anniversary party. I also play music on my laptop and try and get other residents to join in and have a sing song and dance. I have also achieved living skills and I am able to dust and hoover my bedroom. I enjoy and participate in baking activities and love making jelly sweets with staff support!
My main achievement is being able to attend to my own personal care with limited support. Although I need staff support with me I am able to do most things myself. This makes me proud and has helped me to gain my independence and confidence."