Meet Janice who lives in Larwood House – one of Potens residential services in Nottingham. Here Service Manager, Julie Roberts, tells us all about Janice's wonderful journey since being supported by Potens over 4 years ago.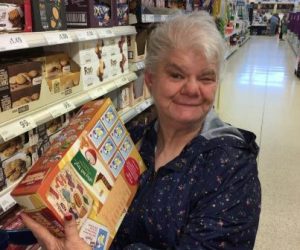 "Janice moved into Larwood House in November 2015 – moving from a home in Leicester that was quite restricting and didn't let Janice be herself. Initially we were told that Janice would not venture out of the home environment as she would become anxious and upset, causing her discomfort. Therefore she never went out into the community at her previous home.
Since moving into her new service Janice's quality of life has completely changed – thanks to the patience, understanding, caring and determined team we have here at Larwood House. She has built her confidence and trust with her team and her life has transformed.
Janice is now out and about in the community on a frequent basis. Janice loves car rides, day trips, food shopping and her favorite thing – trips to charity shops for new handbags!
She has well and truly come out of her shell –we can truly see the change in Janice and it is heart-warming knowing that she is happier, like she deserves.