Caroline works at Woodside Farmhouse, a residential service in Cornwall supporting individuals with learning disabilities and complex needs. Joining the service as a Support Worker in 2011, Caroline has developed her career with the team and is now a Team Leader at the service.  Here she tells us all about her journey…
"I began my journey at Woodside back in 2011 as a Support Worker and have had the pleasure to have been mentored by some great people, who in turn have contributed to me progressing from support worker, to senior support worker, to the Team Leader I am today.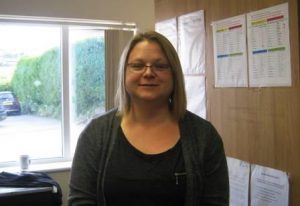 Social care is an incredibly challenging job – we have to balance risk and protective factors, whilst making sure that the voices of the people we support are listened to and that their choices in life are the foundation of our duty.
I feel a sense of responbility when I am invited to attend meetings and reviews that can affect the lives of the individuals that I support – motivating me to embrace their future targets or goals and coming up with creative ideas to improve something or to positively affect their lives.
I am determined to do well in my job and to have a successful career. I am hard working and set realistic goals for myself – taking the necessary steps to achieve them.
Potens has given me the resources to learn, as well as teach and mentor.  I completed my Level 3 Diploma last year in management which has made a huge contribution to my managerial knowledge and my growing portfolio of qualifications.
#30People30Stories