A key drive for our support at Potens is enabling people to reduce support and move on to more independence when the time is right for them. Here we meet Carl, who moved into one of Potens Residential services as an emergency placement. Two years later he stepped down into his own tenancy in the community – here he tells us his story:
"My name is Carl Salt and I have been a Potens service user since September 2013. I originally lived in Calder View. When I arrived at Calder View with my social worker, I was greeted by all of the staff on duty and made to feel at home straight away.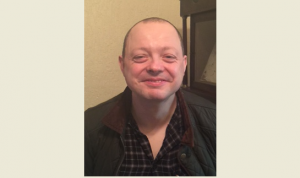 The staff team, over time, managed to talk to me about the things that caused me to become anxious and aggressive. We realised that I reacted like this during special anniversaries – such as my parent's birthdays, anniversaries of their deaths, Mother's Day, Father's Day and Christmas. After this, staff helped me, and I was able to deal with these sad times much better, and my anxieties around these were reduced significantly.
As an example, the staff used to drive me over to Middleton where my parents are buried and I used to take flowers. At times I would also buy a plaque or a stone with a nice saying on for my parents. I was able to take as long as I wanted whilst visiting their graveside and never felt rushed. I was able to hold conversations with them and this helped me to grieve for them.
The staff at Calder View worked so hard with me that they managed to help me get to a stage where my social worker agreed I was able to live in my own property – with staff popping in to see me at certain times of day. I honestly didn't feel that this would ever happen – especially less than two years of living at Calder View.
I have now lived in my own property since October 2015 and I feel so much better about myself. I have now got all the freedom I want. I do still have times when my life is difficult, but I know that the staff team are here for me when I need them, and I know I can still go to Calder View and speak to the staff who know me there if I feel the need."
#30 People #Potens30 #Celebrating30 #Challenge30
Please share with your teams and encourage everyone to follow, like and share our posts throughout May on Potens' Social Media platforms:
• Facebook: Potens-UK
• Twitter: @Potens_UK
• Linked In: Potens_UK