AJ Mcfall recently left Potens day opportunities service 'The Good Days Project' in Sheffield as part of the next stage of his journey into supported living – here the Project's Service Manager, Carly Ravenhill, tells his story…
"AJ started to attend The Good Days Project in Sheffield over 7 years ago. Good Days is a bespoke day service for people with Autism, Profound Multiple Learning Disability and Complex Needs.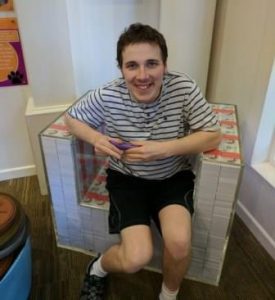 When AJ first joined, due to his sensory need, he spent a lot on his own – using his 1:1 support away from the groups and activity sessions.
Overtime, AJ built some strong relationships with the staff team and started to feel more confident. He began engaging in small group activities which he had shown interest in – such as music, baking and even going out in a group for dinner!
There was no stopping AJ after this. He began to join in larger community group sessions including going on walks and trips out – a big part of the project and involved in lots of activities.
The relationships he has built with staff over the years has helped AJ in the next chapter of his life – moving into a supported living service. We have helped AJ and his family through the transition period, working closely with his new staff team to get to know AJ and making sure he is really settled into his new home.
Unfortunately the move to supported living meant AJ had to say goodbye to the Good Days Project and although we will miss him, we all wish him lots of luck in the next stage of his pathway to independence and very proud of him.
I recently met up with AJ's mum who has thanked us for the work we put in regarding the transition and has let us know that he is very settled and enjoying his new home."
Good luck AJ!
#30people30stories  #celebrating30  #Potens30