Andrew moved into Paxton House in April 2019 and has been on a fantastic journey, increasing his skills and confidence daily – achieving some amazing personal outcomes.
Staff member Amber Schofield explains:
"Andrew has progressed in many ways. He puts his laundry away with no help and he also washes his dishes without any prompting –  this is a massive step for Andrew after living at Paxton for only a short amount of time."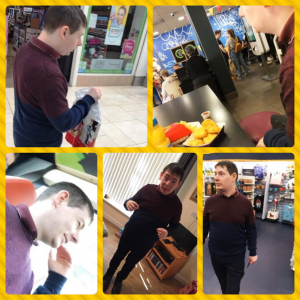 One of Andrew's recent goals has been for him to go to the Disney shop on public transport with a member of staff.
Amber adds: "I asked Andrew if he would like to go the Disney shop with me he said 'yes'. I then asked Andrew if he would like to go on the bus to the Disney shop and he replied 'yes'. Andrew did not hesitate at all and was looking forward to his trip out , he even got changed into smart clothes!"
Andrew can find busy environments a challenge but took the busy bus journey in his stride. Once in Derby City he went to the Disney Shop to buy some books, did a bit more shopping and had lunch in McDonalds!
"Andrew was smiling and laughing throughout the trip – telling me that he really enjoyed the day." Amber adds.
Goal achieved!
Andrew is becoming more confident and trying new experiences daily – well done Andrew!